Now that spring is on its way, i'm trying to lighten up the calorie content of my weekly meal planning dishes. My family are turkey fans so you'll see me substitute a lot of ground turkey in the next few months as we try to drop a few extra winter pounds before I have to shimmy into a bikini again. These turkey stuffed peppers were especially delicious and the lemon chicken pasta was a HUGE hit around here.
Check out my meal choices and let me know what you think! If you have a favorite spring slim down recipe you want me to try, just comment below! This is my weekly meal plan on $60 or less! (only posted prices for the proteins of each dish)
Monday: Ground Turkey Stuffed Peppers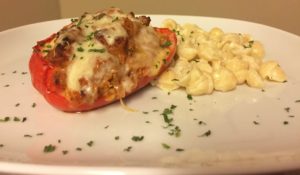 Ground Turkey $3.88
(recipe) My husband loves stuffed peppers, seriously LOVES them, but the heavy beef version can get a little taxing on my diet. This recipe came out just as tasty, but with fewer calories. I did not use the green beans because I forgot to buy them, whoops! Mom brain! I did double this recipe for my household and it was a huge hit.
Tuesday: Parmesan Crusted Tilapia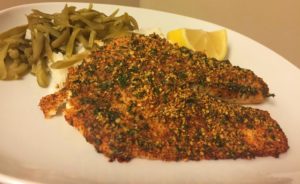 Tilapia $5.98
(recipe) Whenever I cook tilapia, I always tend to use cajun spices. I really wanted to try something different and this was yummy, light and super easy. Perfect spring meal while were trying to shed those extra winter pounds. 
Wednesday: Taco Potatoes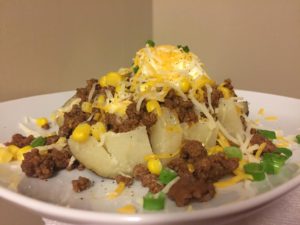 Ground Beef $1.99
(recipe) I did not actually use this recipe, but I really, really meant to, haha. I just happened to run out of time that day and ended up throwing the taco stuff on top of baked potatoes and just winging it. Oh well. It was still super yummy. To go lighter throw this mix over a tossed salad with lots of fresh veggies for that spring slimdown. 
Friday: Bratwurst Bake
Turkey Bratwurst $2.98
(recipe) I used turkey brats instead of regular and I think it turned out wonderful. The apples and onions really had great flavors with turkey and smelled delicious. If you haven't tried the turkey bratwurst, give it a go. The seasonings are the same great taste but they are a little lighter on the calories and grease! 
Saturday: Lemon Chicken Broccoli Pasta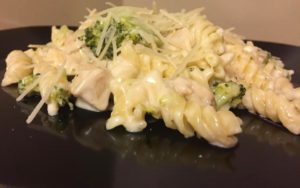 Chicken Breast $3.38
(recipe) Can I say yum?? The lemon and the cream and the broccoli together is just divine. You definitely have to try this.  The lemon taste pairs perfect with broccoli and really cuts the richness of the cream sauce. Toddler and mom approved. 
**Bonus**
If you are a Harry Potter fan, you have to try this Butterbeer Recipe. We had a Harry Potter movie night at my house (complete with cornish pasties and rock cakes) and needed an adult beverage as well. I can say that we used a little more rum than the recipe calls for.