Easy and quick meals are the basic busy mom mantra, so bookmark these and give them a try. I've got a stir fry, shrimp hoagies, lemon butter salmon and a crock pot chicken soup to share with you this week and they do not dissapoint. With warm weather upon us already (and pollen) I've listed some quick inside dishes that wont break the bank or a sweat. Let me know what you try and what you think!
Tag us with #MAMC on instagram or twitter with your dinner photos! 
Monday:Sheet Pan "Stir fry"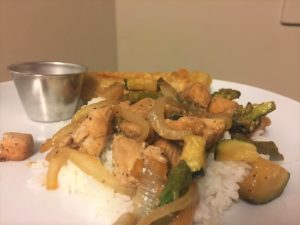 Chicken Breast $3.38
(recipe) This stir fry is so easy I couldn't believe it. Chop everything up, throw in the oven, walk away. Perfect for all those busy days and picky eaters. We served it over white rice, but you could use any kind of glass or rice noodle you like. Even a pack of ramen noodles sans the sodium packed dry seasonings would be great mixed in with the stir fry.
Tuesday:Shrimp Hoagie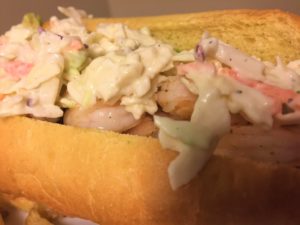 Ricotta $5.99
(recipe) I love seafood and I am lucky most of my household does to. With the warmer days  I am trying to lighten up a few dishes I know my family loves. I did use regular slaw mix since Trader Joe's was out of the Broccoli Slaw when I went, but broccoli slaw is my personal favorite. 
Wednesday:Spaghetti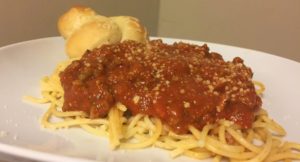 Ground Beef $2.29
Always my default when I don't know what to make. Simple ingredients, a toddler favorite and you always have what you need on hand. I like to serve with a fresh green salad or some kind of steamed veggie so we aren't completely carb loading and we get some color on the plate.
Friday:Lemon Butter Salmon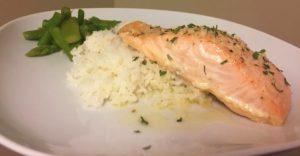 Salmon Filets $8
(recipe) YUM. Light, refreshing, and healthy. That's a moms tipple threat dinner. Plus the toddler loves, loves, loves salmon and it cooks up so quick. No slaving over the stove or in a hot kitchen. Get in, get out. Enjoy your kids and leave the dishes for the hubs.
Saturday:Curried Chicken & Rice Soup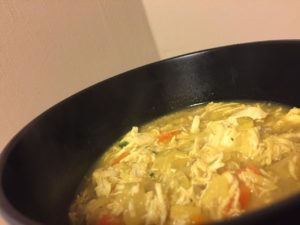 Chicken Breast $3.56
(recipe) This is an excellent twist on traditional chicken soup. I added a little extra curry powder and salt to get a strong flavor. I felt the recipe was tasty, but needed a little more oomph for these taste buds. 
*** Also on a sidenote, I have started using AmazonFresh for grocery delivery. Can I just say that it is amazing! Even though some things are more expensive, I still spend less money because there are zero impulse buys. I make my list, pick my delivery time, and poof. You should definitely try it. If you already have AmazonPrime there is a 30 day trial and then just $15 per month. This is a game changer ladies.