This Atlanta spring weather cannot figure out what it wants to do! Cold one day, sunny and 70 the next…how's a girl supposed to meal plan? Wait, am i the only one who checks the weather before i meal plan? My favorite meal this week was the gnocchi and shrimp with that amazing light lemon sauce and crunchy asparagus. The chicken parmesan sandwiches also got 4 stars from the crew, especially the toddler. But who doesn't love a delicious melty, cheesy chicken sandwich?
Check out these dishes and don't forget to submit your favorite recipes for me to try! Share a picture of your dinner masterpiece on Instagram and tag us with #MAMC so we can see (drool over) what's cookin!
This is my weekly meal plan on $60 or less!
Monday: Chicken Parmesan Sandwich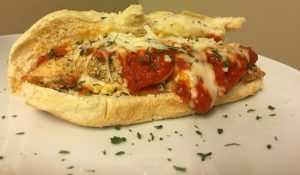 Chicken Breast $3.48 (Fresh Market)
(recipe) I turned this recipe into sandwiches instead of serving with pasta just to change things up a bit. It really made for a toddler friendly meal and the hubs enjoyed it as well. Who doesn't love a good hearty sandwich on a blustery spring day?
Tuesday: Roasted Brats
Bratwurst $5
(recipe)It was so good it disappeared before i even snapped a photo! sorry! If you are anything like me and love and easy to cook and quick clean up dinner, this is it! One sheet pan and your done! A few minutes of chopping veggies then throw it in the over for 30 minutes and BAM! Dinner is served up smelling heavenly on a toasted bun. These would also be super awesome on the grill, maybe in a foil packet with the onions and peppers, but we already know my grilling skills need help, so i opted out of that! 
Wednesday: Slow Cooker "Roasted" Chicken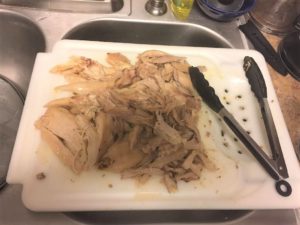 Whole Chicken $7
(recipe) This is a super easy way to cook a chicken, anyone can do it. Tasty and simple, the two pillars of mom cooking. The meat literally falls off the bone and makes it so easy to pick clean. And the best part is the chicken does not have to be completely thawed, so if you're like me and forgot to pull it out soon enough, you're safe. I made it with southern squash casserole on the side this time, but you can also turn the leftovers into chicken salad and save the bones for homemade chicken broth! Just throw all the leftover bits (anything not eaten, so skin, bones, chicken parts) back into the crock pot, add several cups of water and set it on low for the next 8 hours. (recipe)
Friday: Mustard Glazed Salmon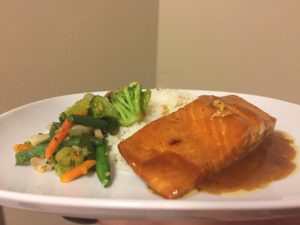 Salmon Filets $9.89
(recipe) I cooked these in the oven at 400 for 20 minutes but I am sure it would taste awesome on the grill as well. I am just not great at grill cooking and it was a little chilly outside. Oven it is!
Saturday: Gnocchi & Shrimp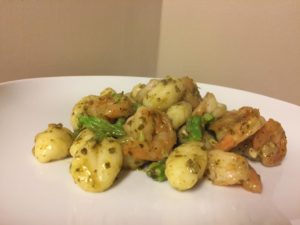 Frozen Shrimp $7.99
(recipe) Usually you think of gnocchi recipes as heavy with cream, but this seems lighter with the addition of asparagus and lemon juice. The flavors are delicious and really compliment each other.