This week has some tasty dishes we haven't tried before! Our favorite was the french dip sliders, but the beef tips on toasted pita with cucumber salad are a very close second! Don't be afraid to mix up your dinner and try flavors from around the world, your kids will love the adventure and you can use it as a learning experience to talk about different cultures. I have a habit of playing music from the country i'm cooking with to get me in the spirit and it usually inspires a few toddler kitchen dance parties.
This is my weekly meal plan on $60 or less! (only posted prices for the proteins of each dish)
Monday: Creamy Pesto Mac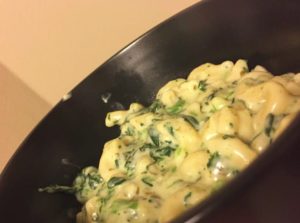 (recipe) Meatless Monday! The most expensive part of this dish is the Pesto, it tasted super rich but healthy veggies are snuck in. You can definitely add more if you prefer, I am hinking maybe mushrooms and artichokes next time.
Tuesday: Beef Tips with Tzatziki
Eye of Round Steaks $6.02
(recipe) I made these into sandwiches with lightly toasted pita bread and a side cucumber salad. I do suggest dicing the steaks before marinating for less mess and clean up, but the Greek flavorings are very light and super flavorful and always a hit in this house.
Wednesday: Slow Cooker Potato Soup
Bacon $2.99
(recipe) Part of this dish is in the crockpot and part on the stove, so it makes a very thick hearty loaded potato soup. Great for cold days, or just rainy weeks like we've had here lately. A bowl of this will brighten any dreary day stuck in the house with kids!
Friday: Honey Soy Salmon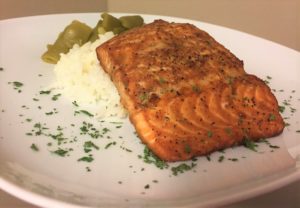 Salmon $8.98
Minced garlic, soy sauce, honey, sesame oil, lemon, salt & pepper are used to marinate this fresh fish for about 30 minutes. Cook at 400 for 20 minutes and prepare to be drooling!
Saturday: French Dip Sliders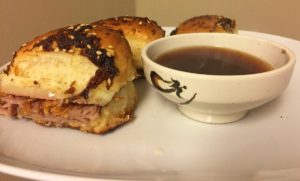 Sliced Deli Roastbeef $9
(recipe) These french dip sliders are a little pricier than I would normally like, but can be made cheaper when used with leftovers from a roastbeef dinner. This mom gives it two thumbs up, and so does the family.
**Bonus**
I wanted to share this recipe with you but it really doesn't fit into my budget cooking. Sundays are my splurge day. I love lamb and little goes a long way in a stew so it isn't TOO expensive. Stews are the best for winter and can be eaten off of for days, so splurging on the meat feels less guilty.