We do a traditional southern Easter spread, think ham, potato salad, green beans, etc and I always have a ton leftover. One can only consume so many ham sandwiches before the sodium turns you into a bloated puffer fish, so these recipes branch out the flavors and mix things up. This year I was able to make 2 extra meals from my Easter leftovers and they are both simple crock pot dishes, ham and black-eyed pea soup and jambalaya!
First up is ham and black-eyed pea soup. This is one of the cheapest and simplest meals you can make and it stretches a long way. I usually have enough to freeze a few bowls but this year the family (2 adults and 2 toddlers) ate it up in one sitting. You can change-up the veggies for whatever you have on hand too, the more the heartier!
1 can of diced tomatoes
Diced Easter leftover ham (if you use sugar or maple glazed ham THIS WILL NOT WORK!)
1 bag of frozen black-eyed peas
1 bag of frozen veggie soup mix (okra, lima beans, peas, carrots, onion, etc)
3 cups chicken broth (I keep my homemade broth on hand in the freezer from my roast chickens so I never have to buy it and i know exactly what's in it!)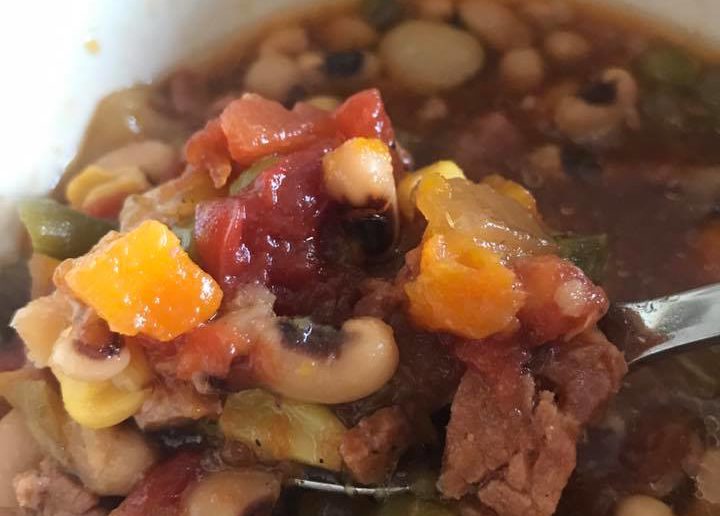 Dump it all in the crock pot and let it cook for 7-8 hours on low. Try not to drool all day with the amazing smell wafting through your kitchen.  I served it with this delicious warm crusty bread from Costco, because it's great for sopping up all that yummy broth!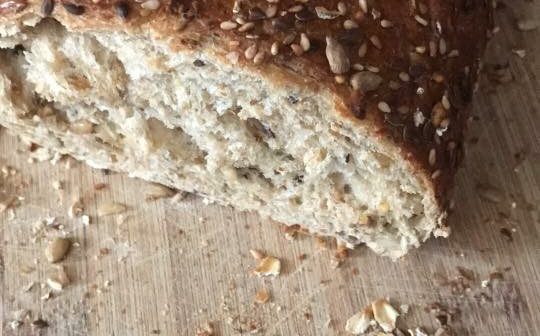 Still have ham sitting in your fridge? Yeah, me too. So, let's use the last of it up in a southern jambalaya to kick those taste buds in the teeth with a 1, 2 punch of flavor and spices!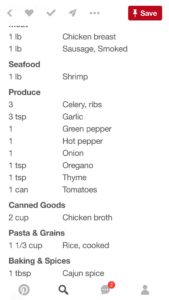 New Orleans style jambalaya with shrimp, kielbasa and of course, diced ham! Typically it calls for shredded chicken but with all this ham leftover we're getting creative, ok? This is brewing up in my crock pot now as i type this, and if i make it to dinner time without sneaking a taste it will be an Easter miracle!
I always head over to Pinterest before I start a meal to check ingredients, cooking times and to get ideas. A quick jambalaya search will lead you to Tammileetips.com and that's where I stopped because her recipe was so easy. I didn't have any celery or Cajun spice but I'm making do with what I've got on hand.
First up I checked my cabinets for something kin to Cajun spices because I don't use it enough to keep on hand. My husband loved Cajun food, but its one of my least favorites so this was a meal he requested, and I obliged to get rid of more ham. A little sprinkle of this, a little of that…I don't measure unless it's necessary guys, so season without abandon! You want bold spice and strong flavor, and old bay always reminds me of coastal seafood boils so i threw that in too, why not?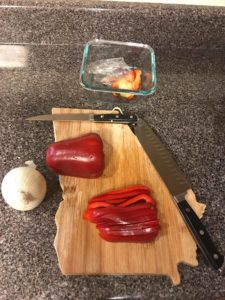 Next it was chop and dice time with my red pepper, onion, ham and kielbasa. I was out of garlic and my garden garlic isn't quite ready to be pulled so i opted out of that. I'm hoping my knack for over seasoning makes up for it. I keep a little trash bowl out while I'm prepping to so i can make fewer trips to the trash can and keep my counter clean. One less mess to wipe up is always a good thing.
Our shrimp are from my favorite grocery store, Kroger, and we buy wild caught only for all our seafood needs. I love when I can get Georgia wild caught, but it depends on what the seafood counter has in stock that day. Just ask if you need them cleaned or shells removed, they can do all the dirty work for you!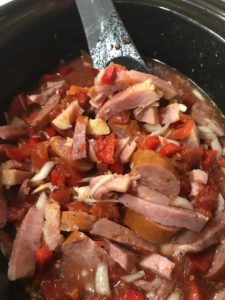 Let it cook on low for 7-8 hours on low. Add your cooked rice and raw shrimp at the very end so it's not total mushy rice and rubber shrimp. Leave the tails on but remove the shells for extra flavor. Our son is allergic to shellfish so I'll cook our shrimp on the side and add it directly to our bowls so we don't contaminate the entire pot.
Enjoy these dishes with your families ladies! I'm gonna go wave a rag around in the kitchen and dance to some Zydeco with the kids like a crazy lady. Just another day in the sweet life.