This week I am taking you on a trip around the world in 5 meals! From Italy to China and Korea to India I have some great pallet expanding flavors to try out with your family. You may not be able to take your entire crew around the world, but you can introduce them to the bold flavors and cultures from your own table. Let the taste of the world begin!
Monday: Cacio E Pepe Pizza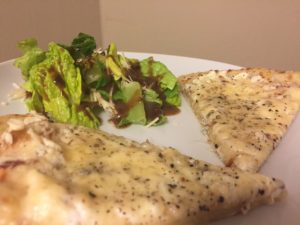 (recipe) So, who knew that cheap college meal I used to throw together was actually old world Italian cuisine?? (Noodles, Parmesan, and Pepper) This is a pizza version of that dish served with a side salad for #Meatless Monday and it is quite delicious.
Tuesday:Egg Roll Skillet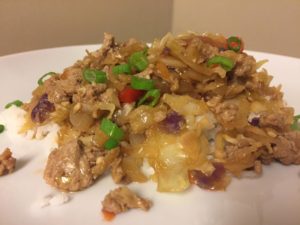 (recipe) All the yumminess of take out egg rolls with none of the greasy fried high calorie content. I cut the fat even more and made it with ground turkey to make it a total win. Serve this with a side of steamed broccoli or salted edamame and you have a great dinner on your hands that everyone will love.
Wednesday:Korean Style Pork Chops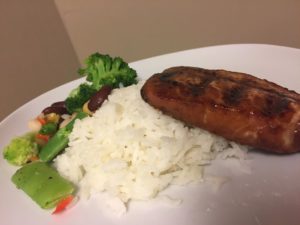 (recipe) Korean BBQ is one of my favorite flavors. My husband cooked these on the grill instead of cooking indoors because our Atlanta spring weather has been fabulous. I think it makes the flavors so much better when cooked over the grill, smoky and a little char on the outside. Delicious! Serve over some white steamed rice and serve with your favorite veggies. A beautiful veggie kabob on the grill would really take this up a notch too, so many possibilities. 
Friday:Curried Chickpeas and Chicken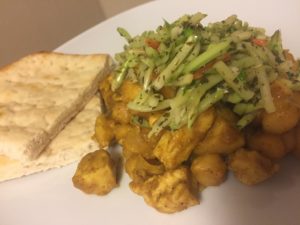 (recipe) The 3 c's. This is a dish I have made before and it's so tasty and easy. The addition of the chickpeas allows you to cut back on the amount of chicken used and still have a filling dish but one that saves the bank. As usual, I add way more curry than suggested because…what can I say, I like flavor! Turn up some Indian music while you cook and dance around the kitchen with the kiddos, they will love it! 
Saturday: Steak Tip Sandwich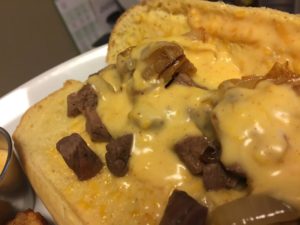 (recipe) One batch of the cheese sauce is more than enough for 5 sandwiches, so don't double it unless you have more people to feed. I used sharp cheddar cheese to keep the price down for this dish but it was definitely yummy and lot messy. Add in some sliced red and green peppers with your steak tips to give it some color and a veggie kick. This one isn't diet friendly with all that cheese and bread, but it is a great cheat day dinner.
It seems this week we went around the world with our flavors. Hey, variety is the spice of life! Don't forget to involve the kids as much as possible when introducing new foods. Let them chop, stir and pick out the veggies at the grocery store so they feel invested in this new meal and you will notice a big difference in your picky eater.